Wireless Alarm Systems
We offer Several choices in wireless alarms. from  brands such as GE , ITI, Qolsys,  and 2 Gig. From standard full alpha traditional Key pads, to talking systems and 7 inch touch screens. Wireless transmitters for doors and windows to tilt sensors for over head garage doors and even custom air conditioner anti theft sensors, smoke detectors and carbon monoxide,  & glass break sensors. and key fobs. all lithium battery powered for years of use with supervision to let you know if and when any batteries need to be replaced, more on request, we can customize your system to your needs.
Clean and accurate installation ,for any Home or Business , with capabilities of up to 100 or more sensors.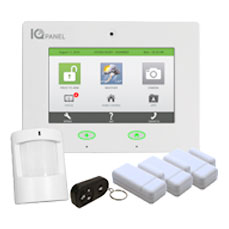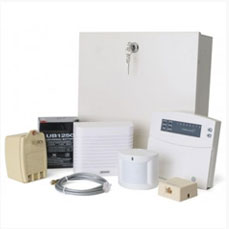 Wired Systems
We have been providing wired systems for many years both for existing structures and new construction. We install GE and United Technology Systems for good reliable user friendly equipment. That you can count on!
They can be connected to monitoring service if you like via phone land line or cellular GSM radio, you can even have the GSM service provide you with the ability to remotely control your system from your computer, tablet , I pad or I phone or smart phone, thru us if you so desire.
if you are building a new house and would like it pre wired by us, we can do that for you, we have been working with many builders in the area for many years or if your house is already pre wired we can finish your Security System for you . and provide Monitoring Service if you like.
Home Automation
We provide Home automation for those who so desire, via "ALARM.COM" and Telguard and Connect 24, by utilizing GSM cellular service thru and attached to your Security System. We install many different z-wave devices such as:
Remote control of security systems.
Door locks.
Thermostats for air conditioning and heating.
Lighting controls , from simple lamps to wall switches.
Garage door openers.
Electric Shades.
Many more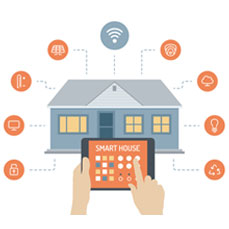 A video surveillance system is your first-line-of defense against break-ins, theft, liabilities, vandalism, and property damage. Installing a high-quality, multi-camera security camera systems at your home, retail store, or business enables you to keep watch 24/7. And, with remote viewing capabilities—you can view your video from wherever you are—even while you're away, or on vacation.
Click here to learn about our security camera systems and installation.
Home Watch Service

We offer standard packages or fully customized services to meet the needs of your biggest investment. With Homeland Security Inc., Home Watch Services you will have peace of mind that your home is protected and maintained while you are away.